How I Decided Which Tiller to Buy
I've written elsewhere on the site that I've had a Mantis 2-cycle tiller for more than 15 years. Like a lot of the Mantis owners that I've seen in Mantis videos and in their advertising, I can truly say that I loved my Mantis Tiller. Each spring, in spite of my occasional neglect, it started after a full pulls on the cord, and worked as hard as I asked it to.
Well, not this spring. After considerable effort, I simply couldn't get it to start. I took it to my favorite equipment dealer, and learned that I needed a new carburetor. I may eventually buy a new carburetor, and fix my old Mantis tiller to have it as a back-up, but I decided, or maybe rationalized that it was time to buy a new tiller.
I had seen the relatively new Mantis 4-cycle at the Philadelphia Flower Show in March, and I've been thinking about it ever since. I decided, however, that I would try to make an objective decision, rather than simply, or impulsively, buying a new tiller.
I'm convinced that most purchasing decisions are more emotional than objective. That's not to say that we don't make logical choices; but, in fact, I'll admit that many of my decisions include a fair amount of emotion. And, when it comes to things that I'm passionate about, like gardening and tools, there's definitely an emotional component.
Choices, Choices, Choices
We certainly live in a world of abundance. If you doubt it, check out the number of choices we have as consumers, we're bombarded with choices, like salad dressings, cell phones, flat screen TV's, cars, digital cameras, whatever, the number of options can be overwhelming. Even within brands, there are often, indeed usually multiple choices!
So, how does one decide?
I used a method that I learned years ago. It's a little bit like judging a beauty pageant (which I've never done, by the way, but I'm available if they need me!).
First Step – Determine the MUSTs criteria
The "Musts" are criteria that the ultimate choice must have. In a beauty pageant, that might be "must be single, must be a US citizen, must be 18 or older." My recent truck purchase started with "must be 4-wheel drive, and must have some inside storage area behind the seats."
My Mini-Tiller MUST list
Must be gas powered – because my gardening is done pretty far from an electrical outlet, and I don't want to use a generator. I admire the folks who have created some very good electric mini-tillers, and, if I were buying one for use exclusively in a quiet neighborhood, I might well have decided "Must be electric."
Must have lawn care attachments – one of the things I really liked about my old Mantis 2-cycle tiller was that I could really do some great yard work with it. I garden because I love it; I do lawn work because I have to. I want my lawn to look nice. My Mantis tiller attachments made yard work a lot easier, and a lot quicker. The Mantis folks know this, of course. I guess that's why they made the recent addition to their web site that explains all of the attachments. See http://www.powertogrowityourself.com/
Eliminate any candidates that don't satisfy your MUSTs list - For my purposes, I eliminated all electric mini-tillers and all tillers that don't offer lawn attachments.
Second Step – Identify "Wants"
Wants are the things you'd like to have, and they're generally more "qualitative" than a "YES" or a "NO." But, not all "wants" are equal. So, after listing the "wants," it's very helpful to decide which are more important, and which are less important. I like to give each "want" a value between 1 and 10, with 10 being the most important. You can have more than one 10.
My Mini-Tiller Wants List
I want my next mini-tiller to be durable. My last one was; in fact, it lasted longer than it probably should have, given the fact that I didn't always follow my own advice about proper care and maintenance. But, after all, no tool (especially one with moving parts) is going to last forever. Durable, for me, is a 10.
I want to have confidence in the company. Are they going to be in the tiller business when I might need parts, or service, or additional attachments? Like many products, the tiller area has attracted a lot of big companies to add a tiller to their line of products. Some are simply private-labeled machines made by others, and painted a different color. Some are imitations of others. Some are only sold through dealers. Will the dealer be there for me if the company stops selling tillers? One interesting way for me to determine my level of confidence is by visiting the company's web site. You'll be amazed at the differences among the various mini-tiller web sites. (Maybe I'll write an article about that sometime.) I want to be confident that the company is likely to be in the tiller business as long as I'm gardening. I also rated confidence as a 10.
My mini-tiller should be very good at tilling. There's a fairly big difference between tilling and cultivating. I don't want to be limited to cultivating. I want to be able to till! And, since all mini-tillers will do some level of tilling, this is another qualitative evaluation. But, it's pretty important to me. I value tilling capability as a 9. (They can't all be 10's!)
What's the company's guarantee? I hope that I never have to use it. But, I've always figured, if the guarantee is really good, the product probably is, too. That may not always be the case, but it seems to have worked that way for me. Guarantee is weighted at 7 for me.
Cost is always an issue. But, it's not the only issue. In fact, it's not even the most important criteria on my "wants" list. There are some folks who will only buy the cheapest alternative available. And, there are some who will only buy the most expensive. I've never believed that either approach would generate the best decision all of the time. For me, cost has a value of 3.
Step 3 – Score each candidate, again using a 1 to 10 scale, for each "Want" criteria.
It's really easier than it sounds. Simply score each candidate on each "want" based on your knowledge or opinion. After all, it's your decision. And, while this method may help you explain your decision to others, its real value is in helping you decide which attributes are really most important to you.
Multiply the score by the value assigned to each want and add the total points for each option. An Excel spreadsheet makes this very easy.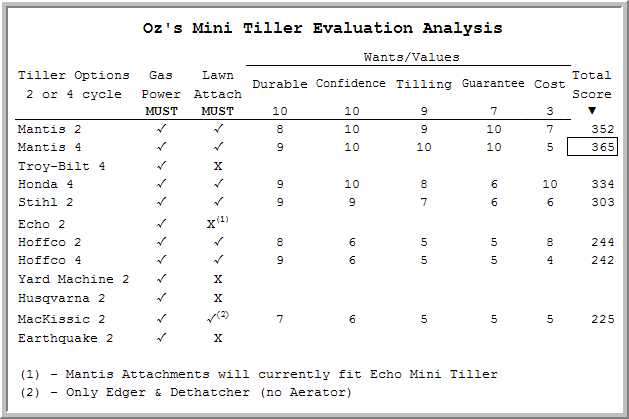 Conclusion
I bought a new Mantis 4-cycle mini-tiller. You may not agree with my criteria, or my scoring. That's ok … but, I hope that the process might be interesting and useful to you.
I'll keep you posted on whether or not I'm delighted with my new mini-tiller
If you have any comments, I'd really like to hear from you.
OZ Gardener
The Garden Of Oz
Feel free to share this article however it has to be copied and published the same way as on this website, without any changes and please include a link to the original material.

Reviews
Read Reviews
(5)
Write a Review
Avg Rating:

4.4 out of 5

January 7, 2013
By: Carl Riley
I currently have a Mantis tiller, which I have had for 15 years and the only problem I have had is the primer bulb started leaking, had it fixed $5. I don't think you can beat the Mantis as far as mini tillers go. Great article and good thoughts about evaluating products. thanks.

May 2, 2011
By: Paul
I have had my Mantis for 16 years and it's still going strong.
Great for tilling around plants in the garden.
I add a little gas additive "Star Tron" to my 5 gal.gas can each time I fill it up and have had no problems with carburetors.

July 10, 2010
By: George Schmidt
I love good evaluation measures. I have recently put together some small garden tiller information. Check out www.smallgardentillernow.com

May 4, 2009
By: Tyler
This method of evaluating any product is a great way to get the most for your money. Thanks for the great tips to comparre tillers.

April 24, 2009
By: Robert
Interesting evaluation. Your right not sure I would agree with all your points but I like the way you came to your conclusion. I just bought a Stihl mini tiller last week, I wish I had found this article before I went shopping. I bought it at a Dealer and not online, they didn't carry the Mantis tiller. But I spent a good hour comparing the tillers and your correct there are a lot of choices and options out there!